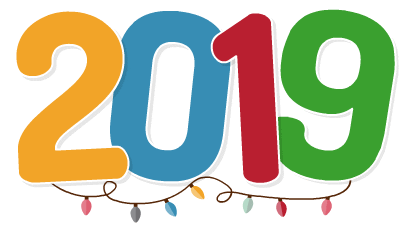 It's a new year and many of us have very high hopes for 2019. I've compiled a few pointers that can help you maintain those hopes sky high!
1. Give thanks. Jot down all the funny moments, celebrations, and special occasions you enjoyed last year. Reflect on those as they set a precedent for your 2019!
2. If you haven't already done so, bid 2018 a proper farewell. Leave disappointments, past hurts behind you. Forgive whoever you need to forgive (that includes yourself)! Letting go of the past is a great way to push the reset button in your life. #freshstart
3. Trying to quit old habits? Replace them with new ones. For example, if you're trying to cut down carbs like white bread, cakes, desserts, instead of going cold turkey, gradually replace them with substitutes such as green vegetables, raw nuts & fresh fruit. #paceyourself
4. Trying to adopt new habits? Look for ways to make a new habit more enjoyable. Join a book club if you want to read more. Want to run more, join a running club. Want to start cooking more often, find exciting recipes online that suit your palate and budget!
5. Start small with your health goals by setting achievable targets such us: "I'll start with a run twice a week, then go for a long walk during the weekend. Then build from there.
6. In other words, adopt behaviours that you are happy to sustain for life; not just for months. I personally like to go on regular walks to unwind. For years now, I drink a glass of water first thing in the morning (I keep a glass on my bed-side the night before); I'll schedule hiking dates with friends… #healthylifestylechoices
7. Go for your yearly health (physical, dental and mental) check ups.
8. Have a bucket list. Whether it's kite-surfing, bunjee-jumping, running a marathon, jot down those goals and go for them! #adventures
9. Smile and laugh more often. They are natural face lifts!
10. Clean up your inbox. Respond to unanswered e-mails, clear trash and spam, etc. Out with the old; in with the new, folks!
11. Learn something new: a language, how to code; how to swim or cycle. #growth
12. In your planner/diary, fast forward to dates later in the year and jot down little motivation messages (jokes and deep quotes also work) to yourself. The year does get rough (especially around winter). Your June self will thank you for the encouraging words you wrote yourself in January when you were still fresher and more eager!
13. Try step outside during a work break to get some sunlight: The sun increases feelings of calmness and goodness.
14. Now's the time to start planning your next holiday trip. Yes, really! Even if you're still unsure about the specific destination, start thinking about dates, travel partner(s), and budget now. #vision
15. Talk to yourself more often. Instead of just listening to your complaints, fears and doubts, talk to yourself with words of truth and encouragement #positivevibes
16. You're allowed to start over: even if it's mid-year and you don't feel like you're winning, you can still try again. #365chances
17. Trust that everything happens for a reason and expect good things to come out of  any disappointments and challenging experiences.
18. Embrace this journey called life – with all it's ups and downs. 2019 is going to be an amazing year!
19. Finally, subscribe to sibasselah (simply click the Follow button on the home page)! This year will be full of 'how to' guides, more travel tips, short stories and musings on various topics (food, fashion and the arts; surviving our 20's; inner beauty, why internet search engines give biased results, etc.) – the list is endless! #curiouscontent
Ps: Please comment below with specific content you'd love to see on sibasselah in 2019! I'm here to please 🙂